Septic contractors in Carthage, Texas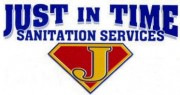 Just In Time Sanitation Services
Phone: 903-693-9991
License: Available Upon Request
Web site: http://jitsservices.com
Specialty:
We do today what most won't do so we can have tomorrow what they only wish for...YOUR CONFIDENCE!

Residential, Commercial, Industrial
*Pump-out: Septic, Sewer, Aerobic Systems
*250-2500 Gallon Holding Tanks
*20 Feet-by-40 Feet Storage Containers
*Roll-Off Dumpsters
*Construction
*Oil Field
*Connex Box

**Portable Toilet ("Port-A-John") Rental
*Short Term
*Long Term
*Special Events: Weddings, Birthday Parties, Family Reunions, Backyard Events, Barbecues, Community Events, etc.
Service Area:
NORTHEAST TX:
Carthage, Longview, Gladewater, Henderson, Kilgore, Marshall, Center, Nacogdoches, Tyler, and all points between.

From SHREVEPORT LA. to the Texas border including Noble, Bossier City, Geenwood, Keithville.
You can also search for a septic contractor near your Zip code:
If you're a septic contractor wishing to be included in SepticContractors.com, please visit our registration page