Septic contractors in Fort Covington, New York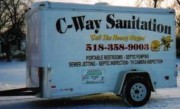 C-Way Sanitation
Phone: 518-358-9003
Franklin County
Fort Covington, New York 12937
License: available upon request
Web site: http://cwaysanitation.com
Specialty:
There is no job too big or too small for the honey wagon!

We specialize in:

*Pumping and Install Septic, Sewer Systems
*Repair on-site systems
*Jetting Plugged, frozen lines
*Locate septic tanks
*Dye Testing
*Video, NAWT Certified Inspector
*Lenzymes Distributor


C-Way Sanitation, owned and operated by Charles "Charlie" Bowers, commitment to service and quality has made it one of the leading sanitation businesses in the area. We are a locally owned company and understand our customer's needs. We will work to provide you top quality products and services tailored to your individual needs. We offer same day and year-round service.
Service Area:
Serving both St. Lawrence and Franklin County, including:

BOMBAY
BRAINARDSVILLE
BRASHER FALLS
BRUSHTON
BURKE
CHASE MILLS
CHATEAUGAY
CHURUBUSCO
CONSTABLE
DICKINSON CENTER
ELLENBURG
ELLENBURG CENTER
FORT COVINGTON
HANNAWA FALLS
HELENA
HOGANSBURG
LAWRENCEVILLE
LYON MOUNTAIN
MALONE
MASSENA
MOIRA
NICHOLVILLE
NORFOLK
NORTH BANGOR
NORTH LAWRENCE
NORWOOD
OWLS HEAD
PARISHVILLE
POTSDAM
You can also search for a septic contractor near your Zip code:
If you're a septic contractor wishing to be included in SepticContractors.com, please visit our registration page